Main image: A man in a tent at San Ferdinando migrant camp in Sicily. Photograph: Sean Smith for the Guardian
When Matteo Salvini took over as Italy's interior minister in June, he made one thing clear: the "good times" for asylum seekers and migrants were over.
But at the San Ferdinando ghetto in southern Italy the "good times" never properly arrived in the first place. This was home to Sacko Soumayla, a 29-year-old Malian trade unionist who was fighting for the rights of migrant workers. Soumayla was shot in the head by an Italian while rummaging for metal to repair his makeshift home.
It is also home to almost 1,000 migrants, who live in 400 shacks resembling cargo containers. These homes are cobbled together with metal, wood and plastic. They are scorching in the summer and bitterly cold in winter.
Almost all of the inhabitants are from sub-Saharan Africa. They are forced to work for little more than €2 an hour picking "made in Italy" delicacies such as olives and tomatoes. They have been called "new slaves", and their limbo is San Ferdinando.
Thierno, a 36-year-old migrant at San Ferdinando camp, lying down talking to a friend. All photographs by Sean Smith
The San Ferdinando camp was established in about 2010. Migrants from all over the country descended on the countryside around Rosarno, in southern Calabria, a stronghold of the ruthless local Mafia, the 'Ndrangheta.
The shacks began to increase in number and San Ferdinando was transformed into a shantytown. Some shacks function as a repair shop for the bicycles that migrants use to reach the fields, others serve as butcher shops or taverns.
The days are monotonous. With no electricity in the camp it is not easy for the residents to idle away the time. Some fill their days with repairing their shack, while others prepare meals, usually with rice and chicken.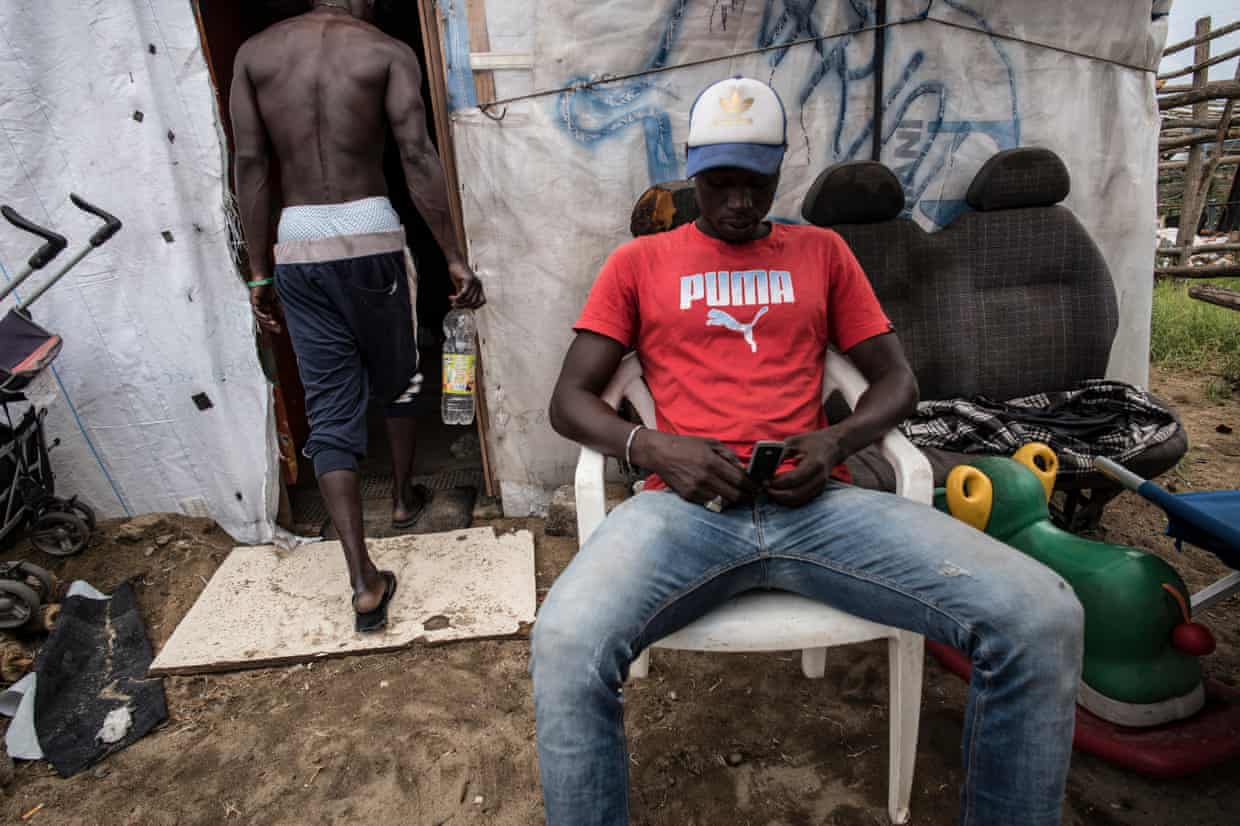 Thierno working on repairs to another shack (left); Thierno's friend Osmane (right).
Thierno shares his shack with Osmane. They both arrived from Senegal in 2015. Thierno, whose wife died during childbirth, has a daughter who lives with her grandmother back at home.
In Senegal he owned a small factory with five employees. Over the years, Thierno has attempted to turn his dwelling into his notion of "home". He built a makeshift porch outside his front door, and sourced materials from a nearby dump, such as using car seats from abandoned vehicles as sofas.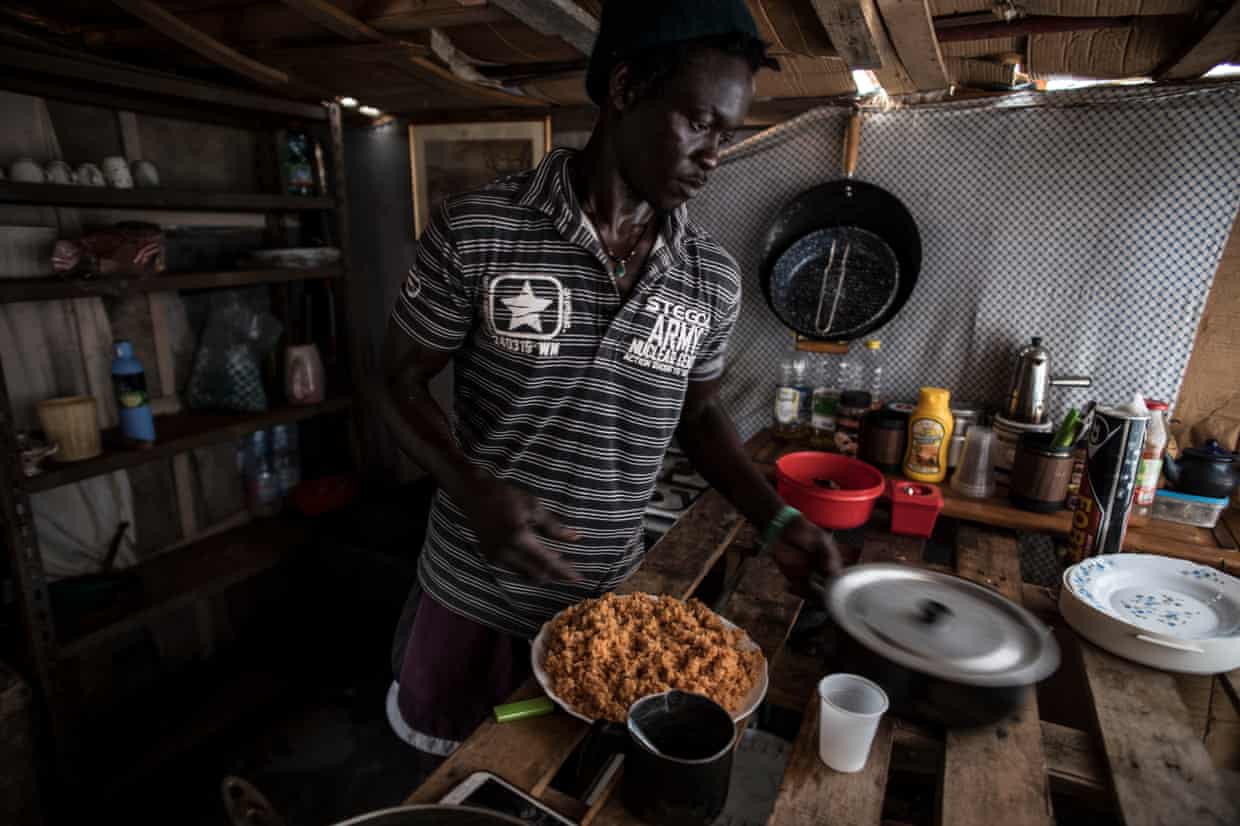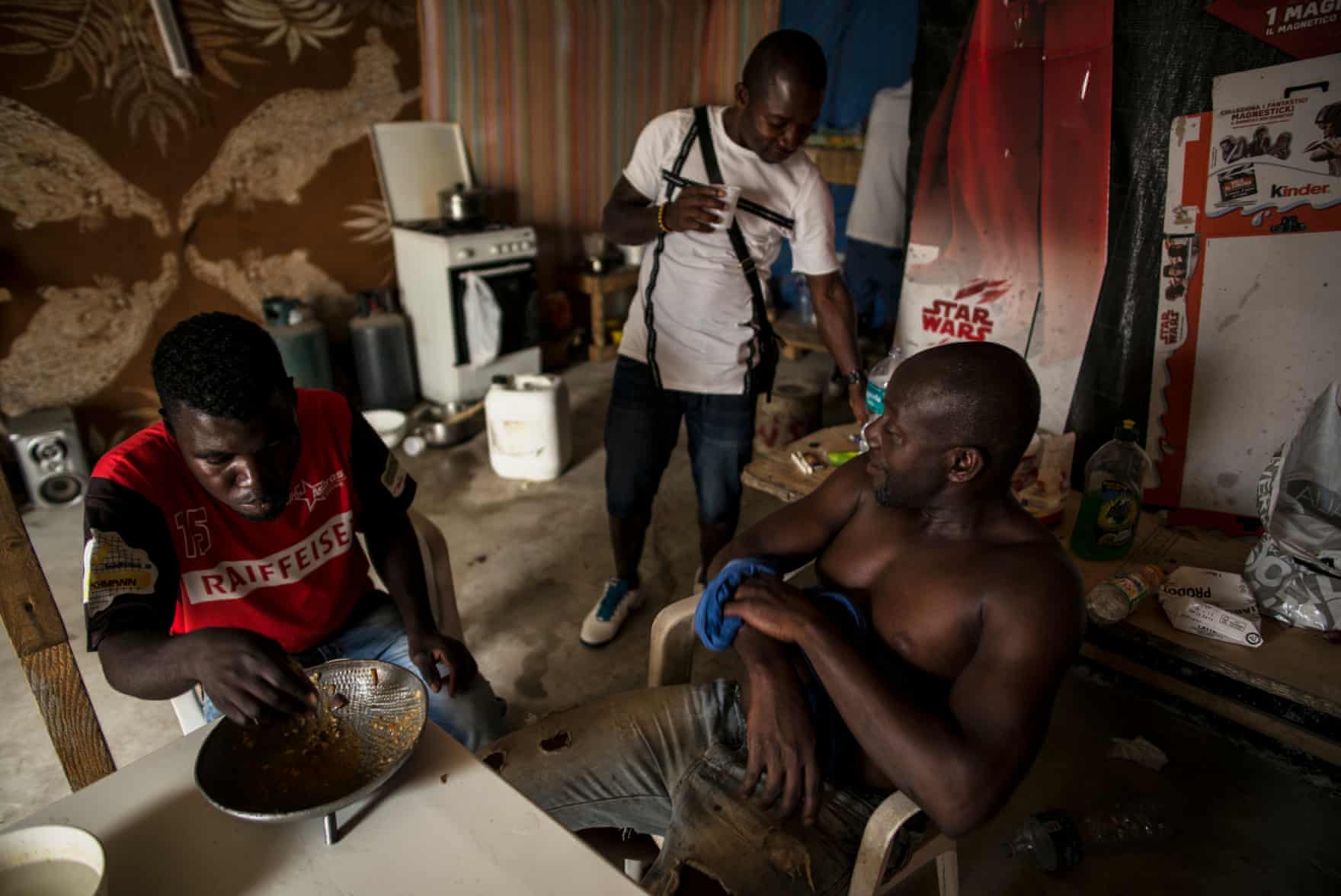 Asuma Yaw at dinner in his shack as he receives a visit from Atta Jacob, a Confederazione Generale Italiana del Lavoro (CGIL) union organiser.
In the kitchen, made from wooden planks and complete with a gas hob, there is a small table with two chairs. Dinner is served here for everyone. The rule is to offer a meal to anyone unable to earn money during the week.
Thierno's shack is a meeting point for friends returning home from the fields in the late afternoon. One of them wears a shirt bearing the face of Sacko, the man from Mali killed in June.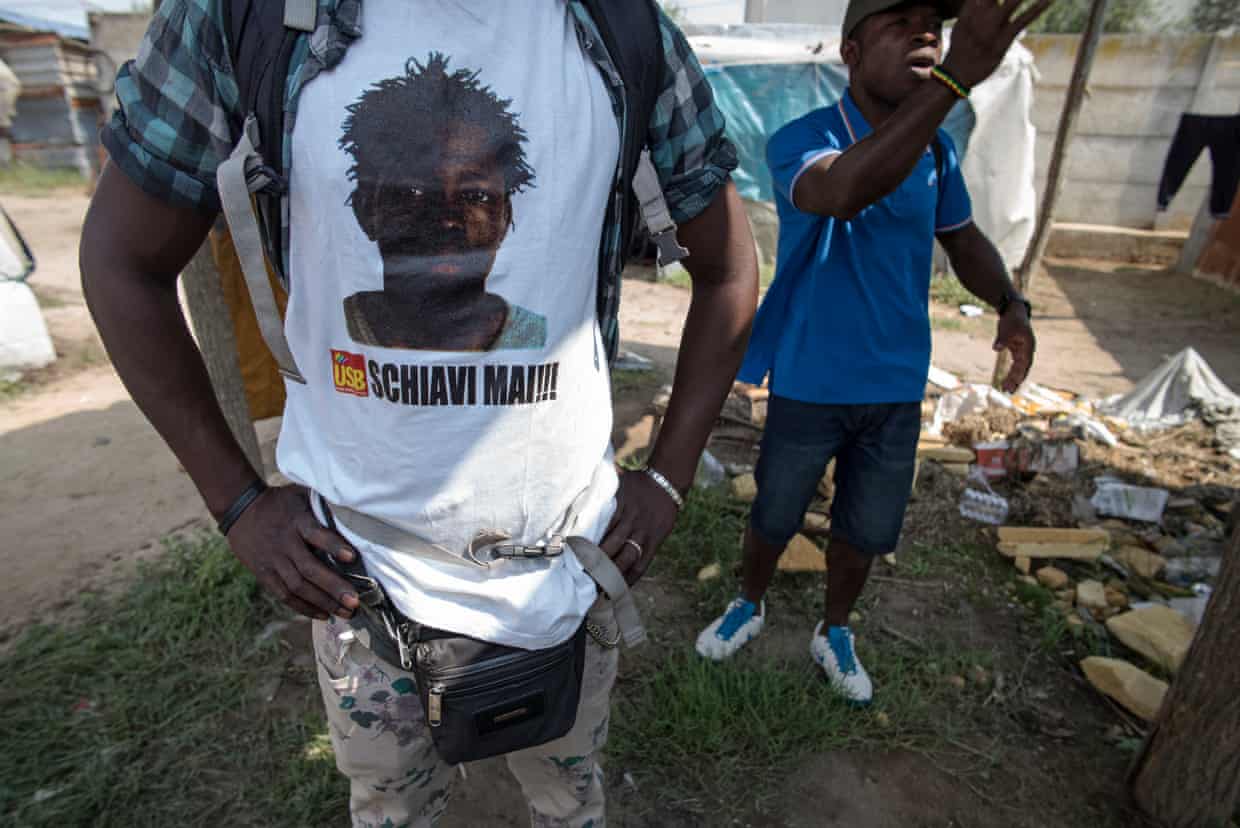 A resident wearing a T-shirt commemorating Sacko Soumalya, who was shot in the head while collecting waste metal.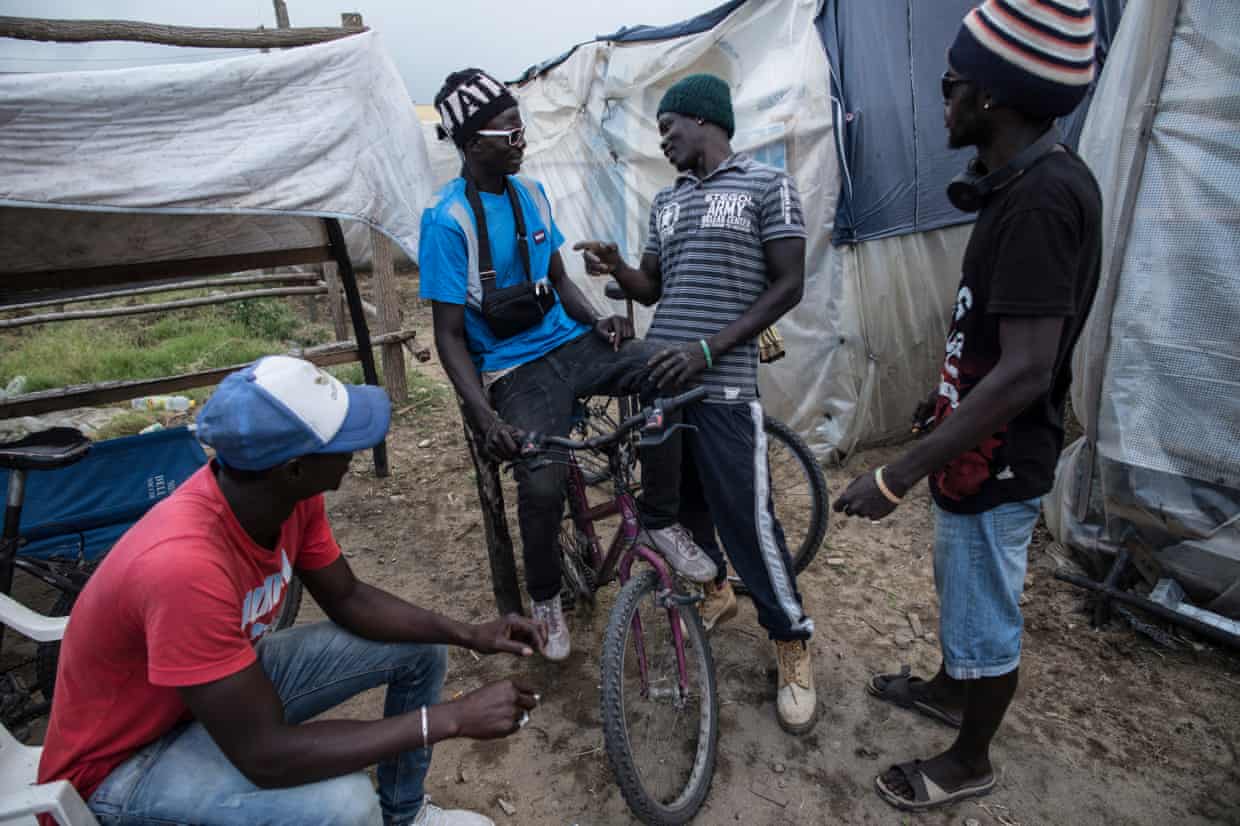 There's just enough time to smoke a few cigarettes, and chat about their condition. A frequent point of discussion is the exhausting wait that forces them to put their lives on hold while the authorities evaluate their asylum requests.
Thierno says: "It's a maze with no way out. To obtain a permit of stay you must have residence, but many of us have no stable home. Some years ago the authorities decided to recognise San Ferdinando as an official residence.
"It was a brilliant idea for the authorities, who in doing so found a way to keep us out of the cities. San Ferdinando was subsequently transformed into a bona fide ghetto, which every year continues to attract migrants who simply want to request refugee status, and in the meantime they slowly become slaves for the farmers."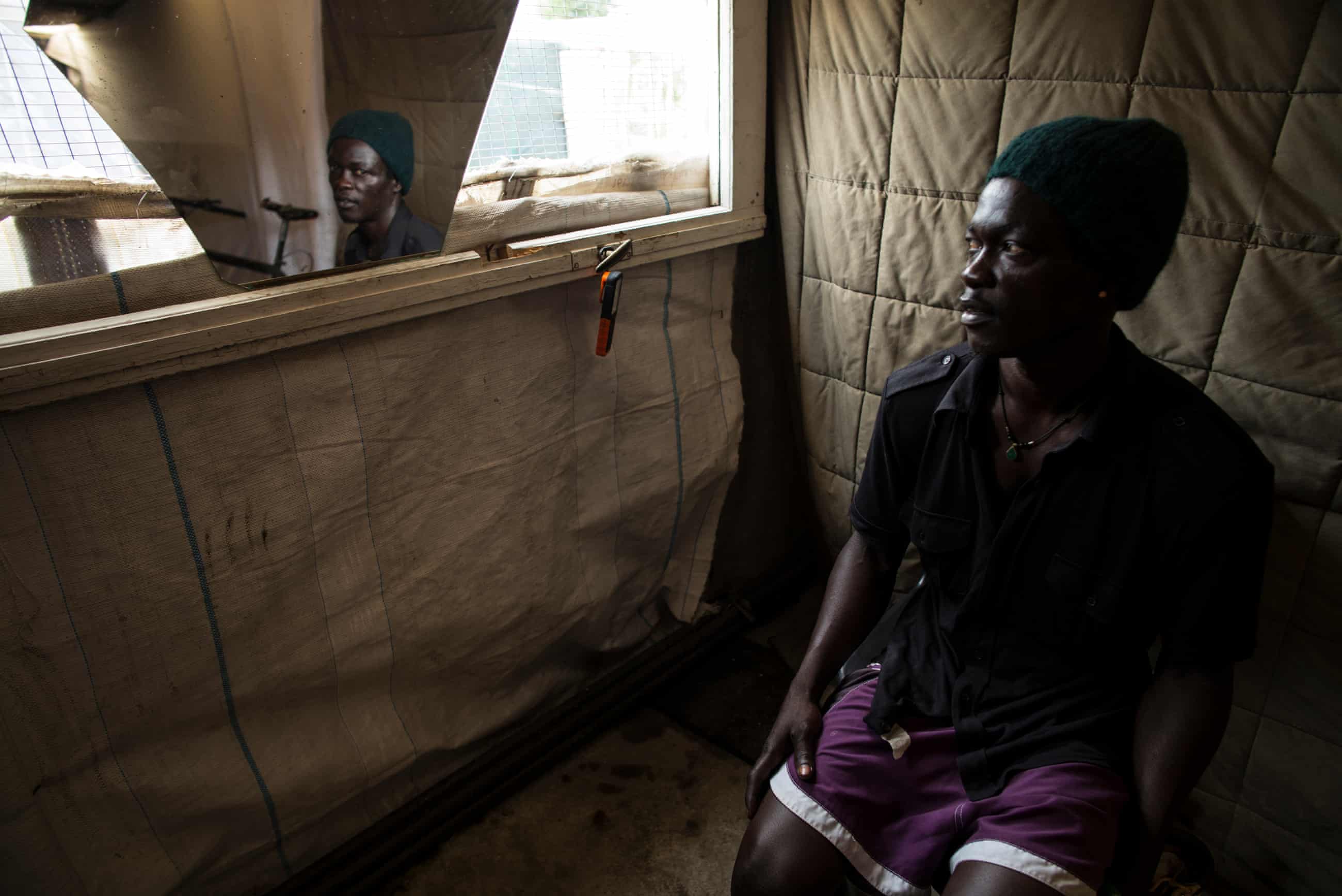 Thierno looks into a mirror.
This is not the Europe that Thierno and his friends dreamed about, nor is it the Italy for which they risked death in the desert, torture in Libya, or drowning at sea, to reach. What's more, it is not easy for them to admit to their family members back home that their dreams have been shattered.
In the evening, while a small fire glows to light their shacks, it's time to phone relatives back home. Asuma Yaw, a 45-year-old Ghanaian, lives next door to Thierno. He left Ghana in 2015 in search of work in Europe and to pay for his daughter's university education.
He says: "I left for her, I'm old now. My only hope is my daughter. What would I say to her if one day she told me that she wanted to come to Europe? I'd tell her to have her paperwork in order to avoid falling into a trap like this."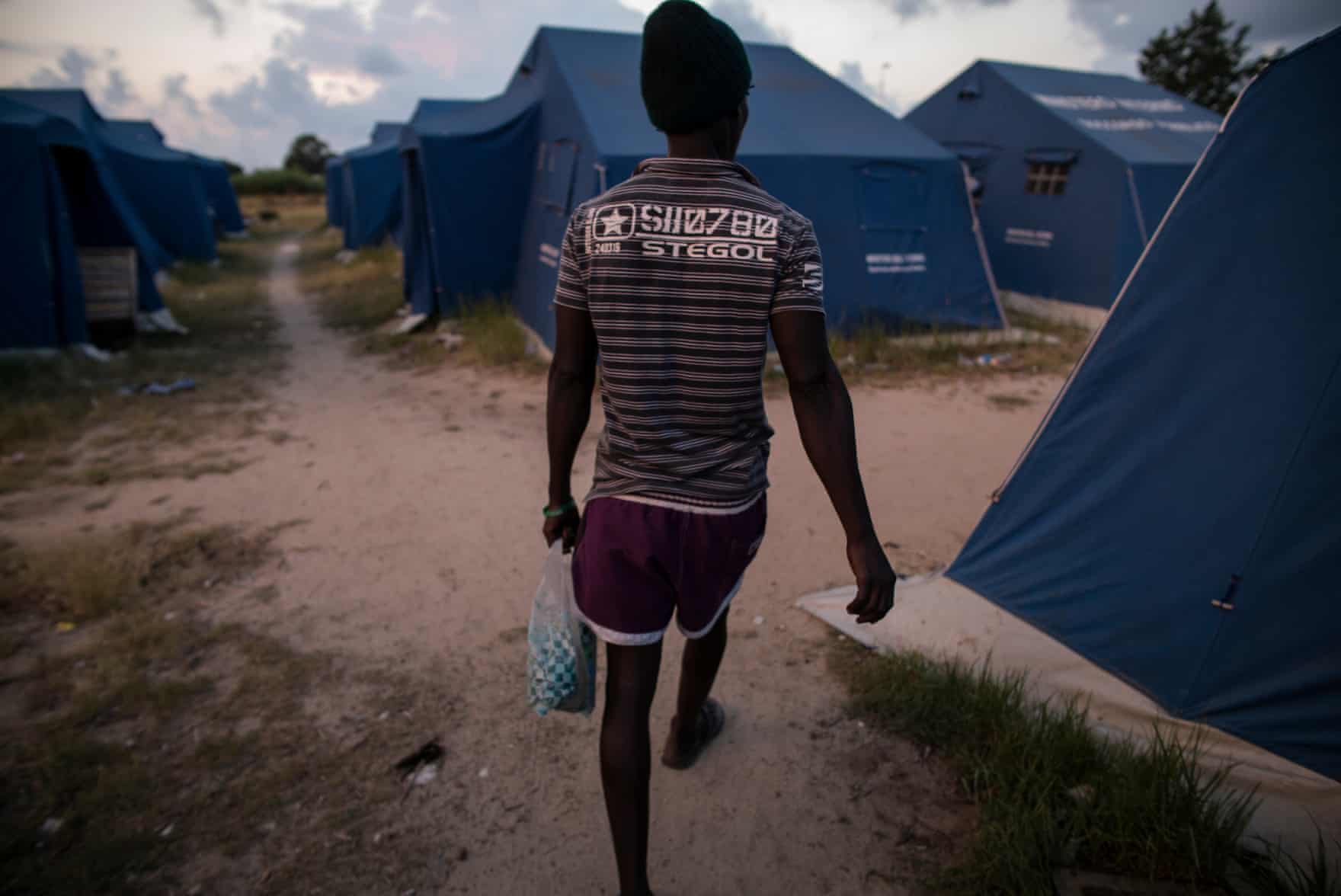 Thierno going to use the showers.
The number of informal migrant labour camps is increasing, according to local rights groups.
In Sicily, a group of about 15 migrants live in a factory in the countryside around Campobello di Mazara in western Sicily. They are survivors of an illegal camp like San Ferdinando, which for four years had housed exploited African migrants during the olive harvest. That camp was razed by the authorities because of mounting concerns about health.
Today, the survivors of that camp have moved into abandoned buildings in the surrounding countryside. They've made repeated requests to the local council to provide public housing they can rent. But the locals have closed their doors.
Asuma Yaw, who is a builder, waits for a call from his wife and daughter, who has nearly finished college. He came to Italy to fund his daughter's education.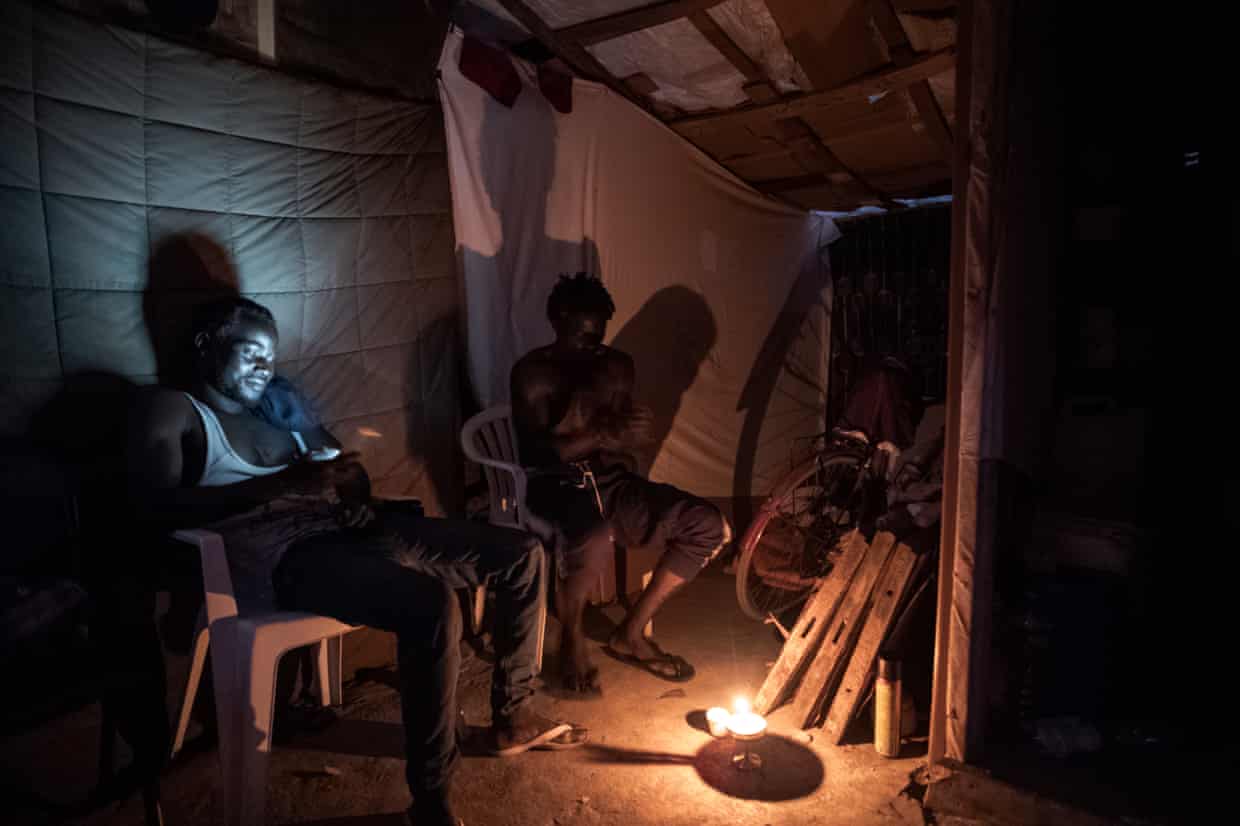 According to trade unions and associations, more than a dozen illegal camps have been destroyed in Italy over the past three years. In March 2017, the authorities dismantled a settlement in Rignano Garganico, the largest migrant labour camp in Europe accommodating 3,000 workers . A year earlier, bulldozers had destroyed camps in Nardò, Salento, and Borreano, Basilicata.
Despite all this, new camps continue to spring up, sometimes on the ruins of the demolished shantytowns. The truth is simple, according to the Italian Union of farmers (UILA), 36% of workers employed in the agricultural sector are foreigners, mainly from Africa.
Without them, Italy's agricultural sector would implode. Without Thierno, Asuma, and more than 10,000 other migrants who are exploited in the fields, the ''good times'' for Salvini's Italy would be over.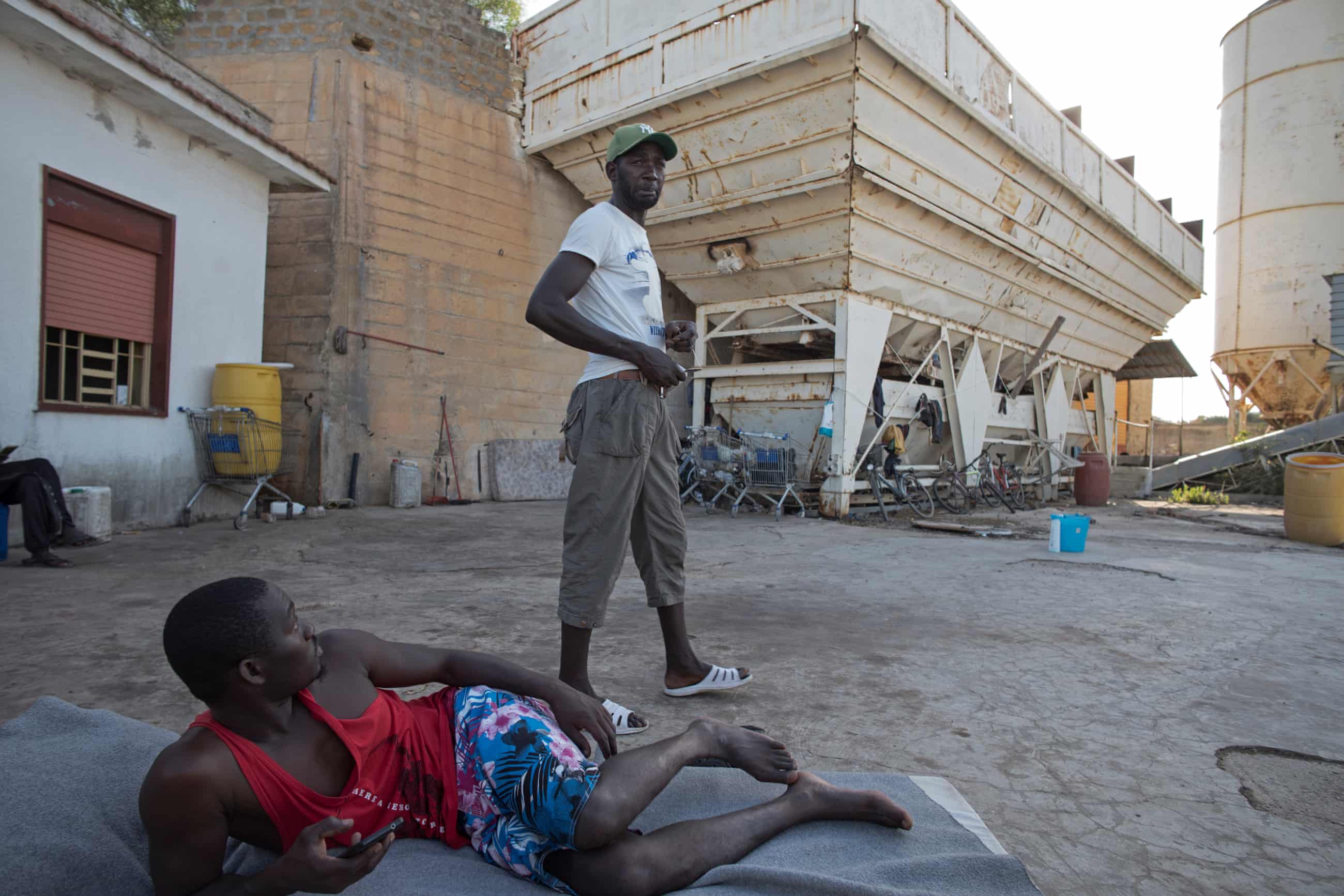 Campo Bello, in an abandoned cement factory. People from the camp pick up casual work on local farms, sometimes for as little as €1 an hour.