AKURE—GOVERNOR Rotimi Akeredolu of Ondo State, yesterday, described civil servants in the state as selfish and ungrateful in their agitation for payment of salary arrears and leave allowances.
He was reacting to the ultimatum given to him by the workers that they would proceed on an industrial action if he failed to pay the backlog of salary arrears from the N20 billion Paris Club Refund.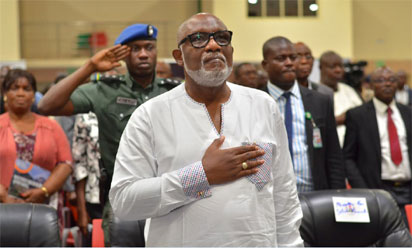 Akeredolu
The ultimatum was contained in a letter signed by State Chairmen of Nigeria Labour Congress, NLC, Trade Union Congress, TUC, and Joint Negotiating Council, JNC, Tayo Ogunleye; Soladoye Ekundayo and Abel Oloniyo respectively.
Akeredolu spoke at the presentation of cheques worth N402million for the payment of compensation to owners of properties affected by the dualisation of Akure, lkare, Owo Township roads and the construction of Ore flyover in Akure.
The governor said: "Generally, people are selfish and ungrateful. Since I came into office I have paid your salary arrears, yet our people are ungrateful and selfish. Since we came into office we do not owe even a month salary. Not a single month.
"Somebody was in office and did not pay your salaries and leave allowances but we came and have not only paid your salaries but had even promoted you and you people still think we have not done anything."
"I can tell you that I agree that we have not done anything.
"In terms of welfare of workers in this state, we have done our best. No state has done better than us because we believe a worker deserves his pay.
"90 percent of the revenue that comes to this state goes to less than 5 percent of the population who are civil servants.
"We are up-to-date in the payment of salaries and pensions, all officers who are due for promotion have been duly served, the 2017 leave bonuses have been paid while some workers have equally enjoyed vehicles loans."
"The Paris Club refund due to Ondo State has been received and consultation with the leaders of the workers is ongoing on how best to balance the interest